#sendtheinterns is a hashtag that stands for some advice I have given the Washington press corps about its dealings with the Trump White House.
After this weekend's spectacular display by new Press Secretary Sean Spicer — mixing provable falsehoods with culture war attacks on the journalists assembled before him — the case for sending interns to the White House briefing room is stronger than ever. In this post I want to restate that argument in light of what just happened, and clarify what I am not saying.
A good place to begin in the analysis of Spicer's performance is that we have no name for what this thing was. We can't call it a press conference because, in a remarkable show of cowardice, Spicer walked out without taking questions. It wasn't an announcement because there was no policy news external to press relations.
Spicer called it an "update on the president's activities" but attacking journalists for being biased against you is in no sense an "update." It wasn't an informal discussion among people who have to work together because, as I said, there was no back and forth, and the setting was stiff, formal, heavy with significance as this was the first official briefing room event of a new presidency. Spicer looked tense. He was shouting at times as he read from a prepared script. Watch the clip: what would you call it? (It's 5:32)

Trying not for elegance but for accuracy, I would call this event a "relationship message delivery vehicle," operating on three levels.
First, it told staffers who work for Trump: this is what we expect. If The Leader is reeling from a narcissistic wound (crowd figures too small) you will be expected to sacrifice dignity and best practice to redress that wound. That's what you bought into when you agreed to work for President Trump. This is a stark statement. No wonder Spicer sounded tense.
Trump throughout the 2016 campaign ordered aides to say things they often did not want to say, defend at all costs.

— Maggie Haberman (@maggieNYT) January 21, 2017
A second message was to the press: You will be turned into hate objects whenever we feel like it. We can do that to you without providing right of reply because… what are you going to do about it? Small mistakes quickly corrected will be treated as evidence of malicious wrong doing by the entire group. (And you deserve that.) We are not bound by what you call facts. We have our own, and we will proceed to put them out regardless of what the evidence says. It's not a problem for us if you stagger from the room in disbelief. We're not trying to "win the news cycle," or win you over. We're trying to demonstrate independence from and power over you people. This room is not just for briefings, announcements and Q & A. It's also a theater of resentment in which you play a crucial part. Our constituency hates your guts; this is the place where we commune with them around that fact. See you tomorrow, guys!
Reaction from the press corps:
Jaw meet floor

— Glenn Thrush (@GlennThrush) January 21, 2017
A third "relationship" message went to the listeners, in tripartite.
* To the core Trump constituency — and an audience primed for this over years of acrid 'liberal media' critique — two things were said. "We're going to rough these people up." (Because we know how long you have waited for that.) But also, and in return, you have to accept our "alternative facts" even if your own eyes tell you otherwise. This too is a stark message. The epistemological "price" for being a solider in Trump's army is high. You have to swallow, repeat and defend things that simply don't check out. Screen shot from the Washington Post's fact check: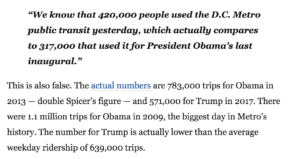 * To the listeners who are hostile to Trump the message is: you don't count. There is no common world of fact that connects us to you. Rage on, losers. We don't have to acknowledge any part of your reality. We're fine if you dispute ours. In fact, the hotter the better. Our aim is true: to maximize conflict between your core group and ours. So please: help us polarize!
* To the neither/nors, the people who are not part of the Trump constituency and not yet committed to opposing him either, the message is very different. I can summarize it in two words: Don't bother. People are fighting over what is real— and what is a lie. They dwell in different worlds— different, but neither of them yours. Any modest effort to pay attention will collapse into futility. Truth is impossible to discern without a heroic — and expensive — act of crap detection. Mostly there is confusion. The only rational choice is to pass on the whole spectacle. This space isn't for you. This is for "them," the people obsessed with politics. You should just live your life.
Look, then, at what Sean Spicer's "relationship message delivery vehicle" accomplished on Day One. For Trump staffers: You gave up your dignity when you joined up with The Leader. Act accordingly. For journalists: You are hate objects. We are unbound from all evidence, all truth. For Trump supporters: We will put these press people down for you, but in return you have to lie to yourselves for us. For Trump's opponents: go nuts, we love it! For the neither/nors: Don't bother paying attention. You won't be able to figure it out.
Listen to Ezra Klein explain why this is more than a sideshow:
The Trump administration is creating a baseline expectation among its loyalists that they can't trust anything said by the media. The spat over crowd size is a low-stakes, semi-comic dispute, but the groundwork is being laid for much more consequential debates over what is, and isn't, true. Delegitimizing the institutions that might report inconvenient or damaging facts about the president is strategic for an administration that has made a slew of impossible promises and takes office amid a cloud of ethics concerns and potential scandals.
And that is the business that was transacted in the White House briefing room… on Day One.
"Send the interns" means our major news organizations don't have to cooperate with this. They don't have to lend talent or prestige to it. They don't have to be props. They need not televise the spectacle live (CNN didn't carry Spicer's rant) and they don't have to send their top people.
They can "switch" systems: from inside-out, where access to the White House starts the story engines, to outside-in, where the action begins on the rim, in the agencies, around the committees, with the people who are supposed to obey Trump but have doubts. As I wrote on December 30:
During the Trump campaign who had better access: The reporters in the media pen, or those who got tickets and moved with the rest of the crowd? Were the news organizations on the blacklist really at a disadvantage? I can hear the reply. We need both: inside and outside. Fine, do both. My point is: outside-in can become the baseline method, and inside-out the occasionally useful variant. Switch it up. Send interns to the daily briefing when it becomes a newsless mess. Move the experienced people to the rim.
Sean Spicer has no power over the press but what they give to him. From a New York Times reporter whose beat is Congress:
If @seanspicer is going to lie in your faces fellow reporters, you don't need to go to his briefings. You don't need to talk to him at all.

— jennifer steinhauer (@jestei) January 22, 2017
When I say #sendtheinterns I mean it literally: take a bold decision to put your most junior people in the briefing room. Recognize that the real story is elsewhere, and most likely hidden. That's why the experienced reporters need to be taken out of the White House, and put on other assignments.
Look: they can't visit culture war upon you if they don't know where you are. The press has to become less predictable. It has to stop functioning as a hate object. This means giving something up. The dream of the White House briefing room and the Presidential press conference is that accountability can be transacted in dramatic and televisable moments: the perfect question that puts the President or his designate on the spot, and lets the public see — as if in a flash — who they are led by. This was always an illusion. Crumbling for decades, it has become comically unsustainable under Trump.
Please note: I am not saying that as a beat the White House is unimportant, or that its pronouncements can be ignored. I'm not saying: devote less attention to Trump. Rather: change the terms of this relationship. Make yourself more elusive. In the theater of resentment where you play such a crucial part, relinquish that part.
The hard thing is not sending the interns, or tasking the experienced people with an outside-in beat into which they can dig. The hard thing is giving up on the dream of some exquisite confrontation that reveals all: accountability in a box.