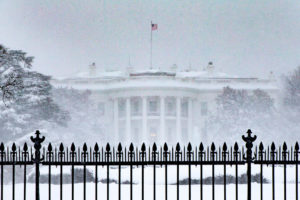 On Tuesday, April 18, from 6 to 8 pm at NYU I'm speaking about Trump and the press. The event is over-subscribed. But it will be live streamed by NYU Journalism at this page and archived for on-demand viewing later at the same address.
Here's the catalogue copy for my talk:
"For a free press as a check on power, now is the darkest time in American history since World War I," Jay Rosen has written. But this is a complex development that goes well beyond Donald Trump's reckless attacks on the news media. It involves grinding failures in journalism, and shifts in the underlying media system, as well as an organized movement, to discredit the mainstream press that predates Trump's political career. Join NYU journalism professor Jay Rosen as he unfolds his perspective on these events and explains his new project: US ambassador for De Correspondent, a Dutch news site that is "optimized for trust" and will soon expand to the American market.
Now here's why you might want to watch it..
Because I've been on a speaking tour about this subject (Burlington, VT; Scranton, PA; Urbana, IL; Moscow, ID; College Station, TX, Miami, FL) which means the show is honed and ready for Broadway.
Because I always leave at least 40 minutes for Q and A.
Because I've written 15 times about Trump and the press and everything I learned by struggling with those prior pieces I have put into this talk.
Because our journalists still have not coped fully with the threat Trump represents to their system, for reasons I will attempt to explain. (Briefly: they want to reuse their software but it keeps crashing on them.)
Because a brilliant historian of Italian fascism who is also a student of Berlusconi, Ruth Ben-Ghiat, will give a short reply and participate in the Q & A. (You can read about her in The New Yorker: A scholar of fascism sees a lot that's familiar with Trump.)
Because in this country there is an organized movement to discredit the mainstream press, and Ruth and I will put that movement into context.
Because decades ago political journalism in the United States took a wrong turn and it's possible that these events will be the catalyst for correcting it.
Because I have a new project that goes directly at the trust problem that underlies this mess and I will be explaining that.
Because if's you're a reader of my press criticism or a close follower of my Twitter feed it would mean a lot to me if you tuned in.
Here's the piece that started all of this: Winter is coming: prospects for the American press under Trump. That link for the live stream again is here.
Here are the slides from my talk.
Photo credit: Steven Green Photography, Creative Commons License.