I am going to be doing a solo presentation at South by Southwest in Austin this year. The title is Bloggers vs. Journalists: It's a Psychological Thing. (If you're at SXSW, come: March 12, 3:30 pm at the Sheraton on E. 11th Street and Sabine Streets.) My pal Lisa Williams, CEO of placeblogger.com, will be moderating, watching the back channel and handling the tech. Here's the description in the SXSW program:
I wrote my essay, Bloggers vs. Journalists is Over, in 2005. And it should be over. After all, lots of journalists happily blog, lots of bloggers journalize and everyone is trying to figure out what's sustainable online. But there's something else going on, and I think I've figured out a piece of it: these two Internet types, amateur bloggers and pro journalists, are actually each other's ideal "other." A big reason they keep struggling with each other lies at the level of psychology, not in the particulars of the disputes and flare-ups that we continue to see online.

The relationship is essentially neurotic, on both sides. Bloggers can't let go of Big Daddy media— the towering figure of the MSM — and still be bloggers. Pro journalists, meanwhile, project fears about the Internet and loss of authority onto the figure of the pajama-wearing blogger. This is a construction of their own and a key part of a whole architecture of denial that has weakened in recent years, but far too slowly. The only way we can finally kill this meme–bloggers vs. journalists–and proceed into a brighter and pro-am future for interactive journalism is to go right at the psychological element in it: the denial, the projection, the neuroses, the narcissism, the grandiosity, the rage, the fears of annihilation: the monsters of the id in the newsroom, and the fantasy of toppling the MSM in the blogosphere.

That is what my solo presentation will be about: a tale of the Internet, told through types.
Now there's a clear risk in trying to do this at South by Southwest: to many people who have been paying attention, especially the digerati, bloggers v. journalists is almost the definition of a played-out theme. Aren't we past all that by now? I know this is what some people will be thinking because I thought that way myself. Blogging is far more accepted today. Most journalists are bloggers themselves, so the distinction is getting weirder. Many newsrooms are trying to attract bloggers into local networks. Blogging itself has been overtaken by social media, some people think.
But I've noticed something else over the years. The issue may be fading, but the conflict remains. That's a clue, and it is my intention to interpret that clue. Rituals go into repeat for a reason. And this is why I have chosen a psychological lens. My presentation only appears to be about that tired meme: bloggers vs. journalists. It's really about the psychology of the journalism profession, as revealed by what the Internet has done to it. Bloggers irritate and provoke journalists into blurting out what they think (and fear) about the Net. That's one of the ideas I plan to develop. Another: by raging at journalists, bloggers keep themselves on the "outside" of a system they are in fact inside of. They preserve some innocence (which is a kind of power) by locating all the power in Big Media.
By the psychology of a profession I mean something distinct from the individuals who work in journalism, about whom I claim no special insight. Just as newsroom culture survives the comings and goings of the people who enter and leave it, the psychology of a professional tribe is its own thing. If this were not the case, there would be no such thing as pack journalism, as distinct from the judgment of individual journalists about what's worth covering. But of course there is pack judgment.
Here, then, is some of the material I have collected. I am looking for more and perhaps better stuff, and that is one reason I am posting this on March 4, eight days before my talk. Got something for me? Put it in the comments please, with links of course. Suggestions, stray concepts, ideas I ought to include? You know what to do. (If I use your material I will of course credit you in Austin.) I expect this post to evolve between now and show time.
My plan is to develop my points using carefully curated slides presenting quotes that match up with key concepts, sort of like this… (But this is just a demo, not the actual preso.)
1. Fantasies of being replaced by an unworthy rival…
Andrew Marr, former political editor of the BBC, now host of the Andrew Marr Show:
A lot of bloggers seem to be socially inadequate, pimpled, single, slightly seedy, bald, cauliflower-nosed young men sitting in their mother's basements and ranting. They are very angry people. OK – the country is full of very angry people. Many of us are angry people at times. Some of us are angry and drunk.

But the so-called citizen journalism is the spewings and rantings of very drunk people late at night. It is fantastic at times but it is not going to replace journalism.
2. We practice impulse control. "They" let themselves go…
Jeremy Peters, media reporter for The New York Times:
A group of black bloggers and journalists from outlets like Essence and BET were invited to the White House on Monday for a half-day of policy briefings by the president's advisers. The White House provided the journalists with an agenda that spelled out the ground rules: the first half of their briefings was to be on background, meaning they could report any information they learned but not attribute it to any specific official; the second half was off the record entirely.

Still, that did not stop bloggers from writing about the event and, in one case, posting a video of the president's remarks to the group…. Some of the bloggers who visited the White House on Monday apparently felt unbound by the ground rules.
Some other quotes I've collected…
3. the teet, a 25 year-old female blogger and writer in Columbus, Ohio:
i think i have an unnatural obsession with and hatred for the editor of the [Columbus] Dispatch.

everything he says makes me want the throw my computer monitor out the window. regardless, I've left him on my Google Reader. I always flip to the front of the Insight section on Sundays. I secretly love the pain he causes me… I don't think it's healthy for a person to feel such disdain toward someone they have never seen in real life.
4. Editor's column, Townsville Bulletin, Queensland, Australia:
The great thing about newspapers is that, love us or hate us, we're the voice of the people. We represent the community, their views, their aspirations and their hopes. We champion North Queensland's wins and we commiserate during our losses…

Bloggers, on the other hand, represent nothing. They whinge, carp and whine about our role in society, and yet they contribute nothing to it, other than satisfying their juvenile egos.
5. Pitch to would-be advertisers by the Los Angeles Times: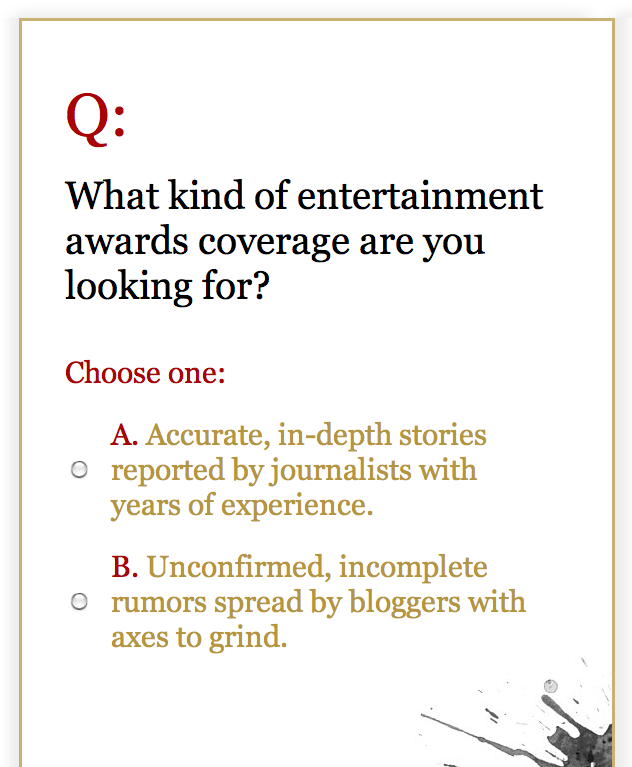 6. Joseph Mismas, political blogger, Columbus, Ohio, referencing the editor of the Columbus Dispatch, Ben Marrison
Marrison writes a 900 word blog post in which he openly admits he hates publications with lower readership – a post that includes maybe 100 words of new material – and he has the BALLS to title it "Lazy, biased reporting makes me sick"?

Note to Ben Marrison: If you want to pretend that you, as a professional journalist, are somehow better than political bloggers and Other Paper reporters because you are less biased and less lazy then you might consider actually NOT being both lazy and biased while writing online rants for the world to see.

Don't you know that's OUR job?
7. Connie Schultz, columnist, Cleveland Plain Dealer:
As I write this, only half of the states in the U.S. now have even one full-time reporter in Washington, D.C. No amount of random blogging and gotcha videos can replace the journalism that keeps a government accountable to its people. If you're a journalist, you already know that. If you're the rest of America, chances are you have no idea.
8. West Seattle Herald, in an editorial about its competitor, West Seattle blog:
Professional journalists don't waste your time

Professional journalists perform a very valuable function in a democratic society. They sift through the information and, when they are good, provide as unbiased a view as possible. That's the job.

Instead of 3000 words about a community council meeting that was 'live blogged' with updates every seven minutes, wouldn't you honestly prefer 300 words that tell you what happened and what was decided?
9. Farhad Manjoo, journalist and columnist for Slate:
If all blog posts are morphing into articles, and all articles are morphing into blog posts, you might wonder which form is winning out. The question is particularly interesting considering the impending death of print. At some point in the future, date TBD, the New York Times will stop printing a newspaper. What will we call it then? Will stories on its site be "blog posts"? … When I asked Instapundit's Glenn Reynolds how he defines blogging, he said the most important thing was "the lack of an institutional voice." Whatever software it uses, he added, "I don't think the NYT will ever really be a blog, in that sense."
10. John Kass, columnist, Chicago Tribune:
I told you what the Chicago Tribune is not. Now let me tell you what it is. It's reporters, photographers and editors, analysts and designers, and others who help us with the work. Our newspaper is just one part of Tribune Co., and what the corporate bosses do is separate from what we do.

Chicago Tribune reporters work in difficult and sometimes dangerous conditions. They do not blog from mommy's basement, cutting and pasting what others have reported, while putting it under a cute pen name on the Internet.

Instead, the Tribune's reporters are out knocking on doors in violent neighborhoods late at night, looking for witnesses after murders. Or they stand in the morgue and talk to the families of the dead. Tribune reporters are not anonymous. They use their own names, put them at the top of their stories and are accountable for what they write.
11. JulieDiCaro, blogger for the Tribune Company's Chicago Now site, responding to John Kass:
The Tribune has created a blogger network of its own, populated by talented, hardworking writers. Sure, most of us took a little more circuitous route to "new journalism," but so have a lot of "real" reporters. Being derided by reporters at the Tribune for no apparent reason probably isn't the best way to attract new bloggers to the Tribune's network. And, if I'm being honest, grumbling about bloggers these days is tantamount to yelling at the neighborhood kids to get off your lawn. It makes you look really, really old.
12. Marc Ambinder, reporter for National Journal, in a farewell to blogging column:
Really good print journalism is ego-free. By that I do not mean that the writer has no skin in the game, or that the writer lacks a perspective, or even that the writer does not write from a perspective. What I mean is that the writer is able to let the story and the reporting process, to the highest possible extent, unfold without a reporter's insecurities or parochial concerns intervening. Blogging is an ego-intensive process. Even in straight news stories, the format always requires you to put yourself into narrative. You are expected to not only have a point of view and reveal it, but be confident that it is the correct point of view. There is nothing wrong with this…
13. Frédéric Filloux, former editor of Liberation in Paris, now a media consultant and journalism teacher in France:
Today's problem is not one media versus another, it's the future of journalism — it's finding the best possible way to finance the gathering and the processing of independent, reliable, and original information. This is emphatically not the blogosphere's mission statement. We all agree: for anyone, the no-intermediary ability to reach a global audience is an exhilarating revolution. And, for old-fashion journalism, it's been the most beneficial kick in the butt ever. Having said this, I don't buy into the widespread delusion that legions of bloggers, compulsive twitterers or facebookers amount to a replacement for traditional journalism.
Again, this isn't the presentation, but my "open" method of preparation. I did this last year and it worked out well. I welcome your responses.
UPDATE: Okay, here's the talk I gave. Thanks to all for the assistance.