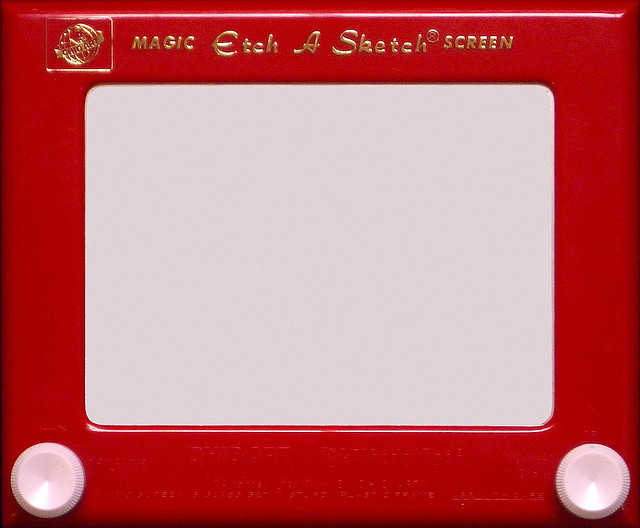 The Boston Globe reports: Mitt Romney stayed at Bain 3 years longer than he stated. "Firm's 2002 filings identify him as CEO, though he said he left in 1999."
Fallout. Which fits well into the controversy of the day template, that reusable campaign good.
Un-templated: Suppose a major party candidate for president believed we were in a "post-truth" era and actually campaigned that way. Would political reporters in the mainstream press figure it out and tell us?
I say no. They would not tell us. Not in any clear way.
Instead, they would do what the Globe did here: try to nail the candidate on specific misstatements that can be documented. Which is good and necessary and difficult and contentious and honorable. Keep going, Boston Globe! And don't forget to credit others who have done similar work.
What template is there for reporting on a strategy that incorporates…
1.) Key lesson of the climate change debate: you can run a political campaign against verifiable facts, and thereby weaken those facts in the public's mind.
2.) The Palin-ator: you can invent stuff and stick with it when it is shown to be false because culture war politics feeds off the noise and friction when fictional claims are fact-checked by the mainstream media.
3.) David Frum's observation from within the Republican tent: "Backed by their own wing of the book-publishing industry and supported by think tanks that increasingly function as public-relations agencies, conservatives have built a whole alternative knowledge system, with its own facts, its own history, its own laws of economics."
4.) Old-fashioned secrecy, as in: don't release information, don't explain.
I think there's evidence that the Romney forces have figured much of this out. And so even though we have a political press that believes itself to be a savvy judge of campaign strategy, here is one that will probably go unnamed and un-described because (…and this may be the cleverest part) a post-truth campaign for president falls into the category of too big to tell.
Meaning: feels too partisan for the officially unaligned. Exposes the press to criticism in too clear a fashion. Messes with the "both sides do it"/we're impartial narrative that political journalists have mastered: and deeply believe in. Romney will be fact checked, his campaign will push back from time to time, the fact checkers will argue among themselves, and the post-truth premise will sneak into common practice without penalty or recognition, even though there is nothing covert about it.
UPDATE: Aug. 5, 2012: What matters for the savvy class is not what's true. What matter is what works, as I explain in my new post: Everything that's wrong with political journalism is one Washington Post item.
(Image by fimoculous. Creative commons license.)