Warning! This is a synthetic product. All the answers are Jim Lehrer's words quoted verbatim. Click on the red A. for the source and to check up on my scissoring. I crafted the questions myself as a way of stitching different interviews together, especially his appearance on WNYC radio and his interview with Politico. My purpose is to show how Jim Lehrer handles the doubts I have heard about his performance since last Wednesday. I did not interview Lehrer myself.
Q. It seemed to us, and a lot of other people, that you kind of lost control of the debate. Did you?
A. "It's not my job to control the conversation. If the candidates gave me resistance, and I let them talk, to me that's being an active moderator, not a passive moderator."
Q. So letting them talk was what you were trying to do?
A. "I thought the format accomplished its purpose, which was to facilitate direct, extended exchanges between the candidates about issues of substance. Part of my moderator mission was to stay out of the way of the flow and I had no problems with doing so."
Q. How did this format come about?
A. "The Commission came to me with this idea… Let's see if we can try to have a real debate–not a moderated, simultaneous one-on-one interviews with the candidates, which is what they've been for all practical purposes–and set up a situation where the challenging is done not by the moderator, but is done by the candidates. And the candidates are either up to it or they're not up to it. They're either ready to go or not ready to go."
Q. And if they're reluctant to engage on the harder issues, which has been known to happen in politics, it would not be your job to prod or challenge them?
A. "I was not there to do the challenging. I was there to facilitate the challenging. If they didn't want to do it, then I wasn't going to do that work for them."
Q. Okay, but does this extend even to keeping time? At several points in the debate, both candidates just rolled right over when you tried to enforce time limits. Was that part of the plan too?
A. "The first few times I said 'let's move on' and they wanted to keep talking, the inclination of course is to stop them so I could cover all the subjects I wanted to cover. But I'm sitting there thinking, 'Wait a minute, they're talking to each other, leave 'em alone.' So I backed off."
Q. And are you happy with how it turned out?
A. "Sitting here talking to you now, I have absolutely no second thoughts about it. I think it was a major development in the growth of presidential debates."
Q. Major development: How so?
A. "This is the first time in the history of American political campaigning where an incumbent president of the United States stood eyeball to eyeball to a challenger and they talked at each other and they talked about things that mattered. That each was allowed to challenge the other and respond to that challenge."
Q. If it's candidate to candidate, eyeball to eyeball, then why have a moderator at all?
A. "I don't know if I'd go that far. But I think we took a step in that direction on Wednesday night and I think that's a very good thing. It's not about a moderator following up and asking tough questions. You can do that in interviews."
Q. Mitt's Romney's comments on the 47 percent of Americans who see themselves as victims and want the government to take care of them: do you think that should have been part of a debate on domestic policy? You could have asked about it, but you didn't. Why?
A. "The reason I didn't ask that is because I felt those were the questions the two candidates were to ask. I was not there to question people. I was there to allow the candidates to question each other. Certainly I could have brought up the 47 percent. All kinds of things I could have brought up."
Q. Were you bothered at all by the way Governor Romney at times bullied and interrupted you?
A. "Everybody saw it. If somebody was turned off by the way Romney interrupted me, then they saw it… Judge it and react accordingly."
Q. What about a situation where a candidate lies or distorts the record, and his opponent is reluctant to go after him for his own reasons? The American people in that situation won't even get a shot at the truth. That's a problem, isn't it?
A. "No, I couldn't disagree with you more. This is ninety minutes in a campaign that's already been underway for a year… This was ninety minutes of the two candidates showing who they are and what they were willing– if Obama made a decision, he didn't want to do that, alright, now we know that."
Q. So you're not moved by any of the criticism since the debate?
A. I've heard some of the criticism, but it's not keeeping me awake at night. My conscience is clear."
* * *
Five comments of my own about Jim Lehrer's responses:
1. They have integrity, in the sense that they form a coherent vision to which he held: Raise some big topics and get out of the way. Leave the follow-ups and the fact-checking to the candidates themselves. Don't challenge them; instead, invite them to challenge each other. Lehrer unquestionably believes in this approach. He thinks it's the right way to go for all the debates.
Dylan Byers of Politico reports: "Though criticism remains, many are beginning to warm to the idea — advocated by Lehrer and by the Commission on Presidential Debates — that the PBS Newshour veteran was actually setting a new standard for debate moderation by making himself all but invisible."
2. It was not clear to anyone before the debate that we should expect the vanishing moderator, whose responsibility is reduced to a minimum. If Lehrer's account is correct, the Commission kind of sprung it on us without warning. Byers, for example, wrote this in an extensively reported preview of the debate:
But at a time when the electorate is as divided as ever, and when media scrutiny is more intense than ever, his is a task that carries unprecedented responsibility. Lehrer, colleagues and campaign strategists say, must ask tough, substantive questions and yet maintain total impartiality. He must shepherd the candidates through a range of topics while allowing them to drive the debate. And he must push Obama and Romney for genuine responses without injecting himself into the conversation.
There was talk of the new format, including the eleven minutes of open conversation in each segment, but "Lehrer will actually play a more active role than ever," Byers reported. Bill Wheatley, a former NBC executive vice president who has produced presidential debates, had this exchange with Nieman Lab, published October 1.
LaFrance: But, theoretically, with the continuity of one moderator and the opportunity for longer back-and-forths, the moderators are better positioned to challenge candidates in real time, call them out on misleading spin.

Wheatley: You would think so. And of course there's lots of spin. It's up to the moderator to decide when to interrupt — when to say, "That doesn't square with the facts," or something like that if a candidate goes that far. They're generally pretty careful in the presidential debate not to make errors of fact, but they can.
Neither had any clue that the Commission had agreed to the vanishing moderator and that "calling them out on misleading spin" had been written out of the job description.
Here's the executive director of the debate commission, Janet Brown, explaining the new format to the Washington Post: "Each debate will cover six topics lasting 15 minutes, picked by the moderator and announced ahead of time. That places a big burden on the moderator to use the time wisely to craft a good exchange. You can lob up names of accomplished journalists 'til the cows come home, but it's very hard to find someone who can do that."
See what I mean? Nothing about: "I was not there to question people. I was there to allow the candidates to question each other."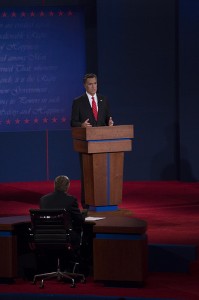 3. None of this lessens in any way President Obama's responsibility for a listless and passive performance. In fact, it makes Obama's failure look even larger. If Lehrer's account is correct, then Obama and his team knew he could not count on Jim Lehrer to correct anything or raise uncomfortable issues. "The challenging is done not by the moderator," as Lehrer put it. Romney got that memo. Obama did not.
4. Let's see if Martha Raddatz of ABC News takes the same approach in tonight's VP debate. Based on this Politico profile, it does not seem in character for her, but who knows? If she does toss them a topic and get out of the way, it will validate Jim Lehrer's explanation: the Commission's plan all along was to install the vanishing moderator. ("I was not there to question people…") If she does not take his approach, the story gets more interesting because then the opacity of the Debate Commission becomes even more outrageous.
5. For me it's impossible to overlook the congruence or fit between these two things: 1.) Lehrer's vanishing moderator who does not challenge or correct but merely "facilitates" the exchange between party leaders and 2.) the weakness of the PBS system itself, especially the Newshour, it's flagship program best known for those non-confrontational interviews that allow the talking points on both sides to pour forth. The problem for PBS is not the imperative to remain impartial. It's the assumption that impartiality is well served by the genteel style. There are more muscular forms of impartial journalism but you rarely see them in action on the Newshour, which is still dominated by Lehrer's presence even though he is mostly retired.
I note, as well, that the imperative at PBS to avoid criticism (even when they know that the culture war attacks are coming) is congruent with Lehrer's approach. He knew he would get a lot of criticism after the debate. But since he defined his primary job as "get out of the way," the only valid criticism–by his lights–is that he did not get out of the way fast enough. As far as I know, no one has made that point about Jim Lehrer.
Post-script: October 12, the morning after the Vice Presidential debate.
Jim Lehrer has said that the new format put in place by the Commission on Presidential Debates included what I have called the Vanishing Moderator. As he put it, "I was not there to question people. I was there to allow the candidates to question each other." He presented this approach as part of the Commission's plan to advance the art of presidential debates, a decision he agreed with and embraced.
But now those explanations look kind of strange because it would appear that Martha Raddatz of ABC News undid the shift to the Vanishing Moderator in last night's Vice Presidential debate. As Alessandra Stanley of the New York Times wrote:
Mr. Biden was not the only one in the room intent on rectifying his predecessor's mistakes. Martha Raddatz of ABC News was the moderator, and she made a point of speaking forcefully, pushing the candidates to be specific and changing subjects abruptly. She seemed determined to be less passive and sleepy than Jim Lehrer of PBS was as moderator of the Obama-Romney debate.
Andrew Rosenthal of the Times opinion staff noted:
Ms. Raddatz showed a consistent willingness to call the candidates on their "malarkey," as the Vice President put it. When Mr. Ryan said he could cut taxes without reducing the deficit by eliminating loopholes, but didn't actually mention which loopholes, she drew attention to his evasiveness: "No specifics, again."

And she refused to let Mr. Ryan ignore her question about his ticket's plan to increase the defense budget. By my count, she returned to that point six times, culminating with the rather sharp: "I want to know how you do the math and have this increase in defense spending?"

With 15 minutes left, after dragging the candidates through taxes, Medicare, Social Security, the budget deficit, terrorism and Afghanistan, she raised a topic that didn't come up at all last week: How did each of the candidates' personal beliefs (they are both Catholic) affect their views on abortion.
This is the very opposite of the policy that Lehrer said the Commission had decided on, with his enthusiastic support. In the Vanishing Moderator scheme, interventions like refusing to let Paul Ryan ignore questions about the defense budget would be left up to the candidates. It would be Biden's job. That Raddatz saw it as her job represented a shift in policy from the week before. Which leaves us with these questions: Did Martha Raddatz go off the reservation and simply ignore the Commission's new Vanishing Moderator format? Was it never the Commission's intention to make the Vanishing Moderator part of its debate scheme? (Lehrer said it was.) Did the Commission change its mind without telling anyone? Was Lehrer's story (scroll up for the quotes) incorrect in some way? We don't know.
UPDATE, Three months after the election: Lehrer, Raddatz disagree on debate role.