CNN's transition is now complete. The entire channel is basically a version of the Nancy Grace show.

— Dan Gillmor (@dangillmor) July 8, 2013

As of today, I have retired from criticism of CNN for falling short of some sort of journalistic standard that news providers should maintain. That activity no longer makes sense. Let someone else receive the "ratings, you idiot" replies on Twitter. I'm done. I'm pretty sure you don't care about this announcement, either. Which nicely illustrates why I'm done.
The immediate cause of action is an amusing but also telling column by Jack Shafer of Reuters: In praise of tabloid TV, which explains why critics of CNN are absurd creatures. If you want coverage of Egypt instead of the Zimmerman trial there's plenty of places to find it and besides audiences have always loved murder trials, so who are you to tell them they shouldn't?
Shafer uses something I wrote as his "ha ha, how clueless can you get?" text: this little 99-word Tumblr post. That was kind of annoying because as far as I can tell Shafer agrees with everything I wrote. CNN is making its priorities clear when it sticks with the Zimmerman trial while world events are breaking. Murder trials are like a TV series. Jeff Zucker, CNN's new president, does want "everyone in his company to know what the priorities are: Mini-series in the center, world events off to the side." Shafer writes:
In today's media environment, the media critic who insists that the cable networks follow Egypt and drop Zimmerman is like the nudging dining companion who wants to order both his meal and yours, lest you embarrass him by mistakenly ordering the burger and fries.
Which is a good line. The fact that no one in journalism bats an eye when Shafer equates CNN with "tabloid TV" tells us why I am out of the game. Some other reasons:
1. Jon Stewart does it better.
2. CNN makes $600 million a year for Time Warner, but if you challenge one of their ratings-driven decisions the main thing you hear back is: hey, they have a huge business problem on their hands. What can you say to that?
3. The other thing I hear back ad nauseum is: "Jay, watch CNN International, so much better." Uh… okay. I don't have CNN International in my cable package, but I do know how to change the channel. So thanks!
4. Even where you might expect to find resistance to what CNN has become – among journalists – you do not. Here's Dylan Byers, media columnist for Politico:
The Zimmerman trial will likely be a ratings boon for all cable networks, including MSNBC and Fox News, which have also been heavy on the courtroom coverage. CNN's domestic outfit understands the same way Time Magazine does that most Americans don't know much about world events, and don't care to — John King even admitted as much last year.

The truth is, CNN's programming decisions aren't a reflection of CNN so much as a reflection of the American people, more of whom care about a domestic court trial than about the historic events taking place overseas. Right now, CNN International is broadcasting wall-to-wall coverage from Egypt. The fact that CNN's domestic channel isn't should tell you what executives there think about the American people's interests. And sure, CNN could take the lead and cover what they think the American people should care about, but that's not necessarily a great business strategy.
Frame check: "Ratings, so shut up" vs. "eat your spinach," with a side order of "Americans don't care." None of this describes what I was trying to accomplish by criticizing CNN, but that's over now. I'm retired.
5. What I was trying to accomplish by criticizing CNN has been overridden by Jeff Zucker. Here's what I mean. CNN's problems were well stated a few years ago by a competitor, Phil Griffin, head of MSNBC, who asked: "What do they stand for?" That is the million dollar question.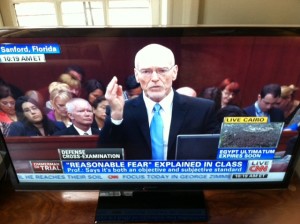 The answer CNN people had always given was pretty simple: breaking news! When big events happen the world turns to CNN. That's who we are. That's what we do. At CNN, they used to say, "the news is the star." The problem with this answer eventually became well known. What causes people to tune in when there is no big breaking news? Fox and MSNBC have their ways of creating loyalists, what does CNN have? Wolf Blitzer? Erin Burnett?
I admit this is a hard problem. I didn't have an answer, either, but as a critic I tried to make a few suggestions that would at least get the discussion out of the left/right/center rut. The most promising direction, I thought and still think, was latent in a catch phrase that Anderson Cooper uses: keeping 'em honest. CNN could have tried to become the fact-checking network, the "no bull" channel, the place that did away with both "he said, she said" and news for party loyalists, where repeating the talking points got you booted from the rolodex and performances like this became the norm. There were even some hints that network execs were moving in that direction. Of course the challenge would be to make it interesting television but on that score I thought "no bull" a long way from "eat your spinach."
Zucker has ended that by giving his own answer to Phil Griffin's question: what do they stand for? The same thing Entertainment Tonight stands for! Television that occupies your attention, not for a purpose but merely for a while. Another answer might be "drama without dramatists," meaning: drama where the plots and characters are provided by the people unlucky enough to be caught up in tabloid-ish or flashpoint events. Trials are ideal for that, but so is the poop ship. Criticism of these tactics actually tells Zucker that he is on the right track. Now the ratings are up relative to his competitors, and nothing ends the conversation like an uptick in the numbers. Unless it's bringing back Crossfire, which is like saying, CNN: brain dead and proud of it.
6. David Carr, media columnist for the New York Times, once wrote: "By marketing itself as the most trusted name in news, CNN is and should be held to a higher standard." I thought that way too. But now I realize that not enough people join in Carr's belief, inside or outside CNN. And without it there's no traction.
So I'm saying farewell. I used to say: I criticize because I care. But I no longer do. I'm turning this beat over to James Poniewozik, Time magazine's gifted television writer. CNN is TV, popular enough to remain on the air. That's pretty much all you can say about it now. That and: ratings, so shut up.
After Matter: Notes, Reactions & Links
Former CNN producer and  executive Sid Bedingfield: Is It Time to Give Up on CNN?
I rarely criticize CNN in public, partly out of loyalty, but also to avoid hypocrisy. No one spends 20 years in cable news and comes away entirely clean. In this case, however, I'm tempted to agree with Jay Rosen, who believes it's time to give up on CNN.
His analysis of the Zimmerman coverage is acute. Read it.
The New Republic: CNN Is Bad at Tabloid Journalism.
The worst kind of tabloidism is boring tabloidism, which was what CNN had devolved into by Tuesday night. Its headlines were sensational ("SELF DEFENSE OR MURDER?"), but its content was mostly not. So it is not the fanatical coverage of the Zimmerman trial or the relegation of Tahrir Square to a tiny box in the corner of the screen that feels most symptomatic of the network's general decline. It's the moments when even CNN's nightly news programs, the one opportunity for some analytical distance, participate in the trial's vacuity instead of stepping back to interrogate it.
Adweek: Zucker's Changes at CNN Are Already Bearing Fruit. I couldn't ask for a better illustration of why I'm done.
The good ship CNN is riding a little higher on the waves. After months of plummeting ratings and a high-profile game of C-suite musical chairs, the original cable news network is catching up to its competitors in the core demo and showing significant year-over-year gains. And while a fall resurrection of Crossfire and the June launch of the morning show New Day are drawing ink, president Jeff Zucker is making other, more subtle changes, too.

For one thing, CNN's anchors are appearing on each other's shows…
When the encouraging news (other than the ratings) is that CNN anchors are appearing on each other's shows, it's time for a press critic to direct his gaze elsewhere, don't you agree?
Inside Cable News reacts to this post.
Zimmerman will pass. There will be a verdict and the cable channels will move on. It is where CNN moves on to that we need to watch. And that's why I think that thowing in the towel as Rosen has apparently done is a tad premature. Maybe CNN is indeed hopeless and innoculated against meaningful criticism. Even if it was, I would hope that people would criticize it nonetheless. Because if there is no criticism from a source that counts (which automatically excludes Jon Stewart and his "I'm just a comedian" crutch he trots out all too often) then how can the network's coverage be measured if there is no counter argument to contrast it to?
If CNN had an ombudsman, the situation might be different. There would at least be an office to which one could appeal. Now we understand why a company making $600 million a year cannot afford that position, although strangely NPR has one and they ran at a deficit last year.
Short Form Blog, a major force on Tumblr, replies to the question, "Isn't it possible that the backlash against CNN's coverage of the George Zimmerman case is in and of itself racially motivated?"
CNN and the Problem With the 'Egypt or Trayvon' Question. At Foreign Policy magazine's site, Joshua Keating asks: "Isn't it the network's job to tell viewers why they have to pay attention to a story and to make it interesting to them?"  That job description is exactly what's being abandoned at CNN, Josh.
In reply to criticism of its wall-to-wall Zimmerman coverage, Jeff Zucker says… exactly what you would expect him to say. No light escapes his reply. But there was this:
Zucker also said that a criticism that CNN has not had enough conservative points of view on the air is a fair one and he's working to correct that.
Good to know. Here are the ratings for July 10, as the Zimmerman trial was cresting.
To those whining about #Zimmerman coverage on cable, I say its a nice break from the "gotcha," sometimes inane political coverage

— Dan Abrams (@danabrams) July 12, 2013

Now this is what I mean by brain dead. The alternatives as posed by Dan Abrams: wall-to-wall Zimmerman trial or inane gotcha coverage. Abrams is currently working for ABC News as a legal analysis.
Perfect! Deadline Hollywood, the entertainment industry news and gossip site, describes me as an "industry navel-lint gazer" and says it will hold me to that pledge to retire from CNN criticism.