Part One: Feb. 6, 2015
I figured out what's bothering me about the story that has engulfed NBC News, "after the public symbol of the network, anchor Brian Williams, faced a torrent of derision and criticism for telling a story about his wartime reporting that has proved to be untrue." (Washington Post.) I don't know that he deliberately lied to puff himself up and receive "stolen valor." Nor do I know that ordinary "could happen to anyone" memory failure accounts for it. Both interpretations are popular online. I'm not persuaded of either one, but I can't disprove them.
I do know this: since it became clear that Williams had created big problems for himself and his network by telling a false story, he has not led.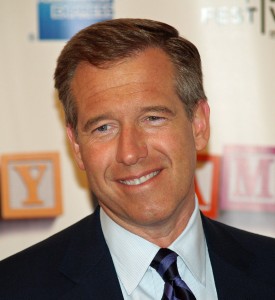 And that is the job of an anchorman, if the anchorman really is what he is supposed to be— not just a news reader, celebrity and Jon Stewart guest but a kind of super-journalist, able to host the nightly news (a job in itself), act as managing editor of the broadcast (a job in itself), report stories from the field, preside over special events like election night and serve as the embodiment of the news division's mystical compact with the viewing public, the person in whom trust is lodged and then expressed to the rest of the reporting and producing corps. That's the job: face of the brand, human figure in a whole architecture of trust. Williams reveled in it, and spoke many times of what an awesome responsibility it was for a kid from Jersey.
And then he created an anchorman crisis. "The trustworthiness of one of America's best-known and most revered TV journalists has been damaged, [and] the moral authority of the nightly network news anchor, already diminished in the modern media era, has been dealt another blow." (New York York Times. Video recap here.)
Since the news broke on February 4 that Williams had been forced to admit that parts of his story were untrue, other journalists have been tracking down participants — people who were there — to ask what they recall of those events. Stars and Stripes, CNN, the New York Times, Page Six have all been involved in re-reporting the story.
But where is NBC News? For that matter: why isn't Brian Williams the one interviewing the military veterans who can help him correct his faulty account? Why isn't he putting his prestige and instant name recognition to work in getting to the bottom of what actually happened? Sure, it might be humbling. And there might be credibility problems since he would be investigating himself, in a way. But going right at those problems — and emerging on the other side with something that the audience, his colleagues and other journalists can trust — is exactly what's called for in this situation.
I mean, that's what a leader of a news division would do— if he's really a leader, and not a figurehead, air head, talking head or swollen head. A leader of a network news division that is still dependent, for better or worse, on the archaic anchorman system would recognize that the architecture of trust that places the lead anchor in both the glamour and the "stress" positions — head of state and prime minister, as it were — can crumble instantly if the anchorman himself cannot be trusted in telling the story of his own experience. That affects not only Williams but everyone who works for NBC News.
Think about it: The Face of the Brand lets other news organizations re-report his faulty stories? Journalistically speaking, how does that work? It doesn't. Too late now, though. The apology Williams gave has been called into grave question. Other newsrooms have led the charge on the story. NBC has an internal investigation underway to figure out how bad the situation is. And Politico is reporting: "Brian Williams is in serious trouble."
The trouble has been caused not only by his fictionalizing of a helicopter ride 12 years ago, but by a failure actually to be what the anchorman position calls for. Not a great talk show guest, but a great leader.
Part Two: February 7, 2015.
Last night I went back and re-watched the clips where Brian Williams tells his story. I also re-read a lot of the coverage. It's good that NBC is investigating because some things are pretty disturbing when you start thinking them through.
One has been mentioned in the comments here and by Erik Wemple of the Washington Post. Brian Williams didn't fly in that helicopter by himself. He had an NBC crew with him. The chances that crew members would misremember the flight the same way Williams did seem pretty slim. They're journalists too. But we haven't heard from them. Why? Wemple:
A production crew accompanied Williams on the helicopter outing. The Erik Wemple Blog has asked NBC News who and how many people were on that crew. But where have they been as Williams has gone about misremembering the episode in media appearances in recent years? Upon the 10th anniversary of the incident, the anchor visited David Letterman and couldn't have been more unequivocal about having ridden in the 'copter under attack: "Two of the four helicopters were hit, by ground fire, including the one I was in, RPG and AK-47," Williams told the "Late Show" host.

Also in March 2013, Williams told Alec Baldwin in an interview on WNYC's "Here's The Thing." Speaking of his tendency to say "I've got this" in sticky situations, he said, "And I've done some ridiculously stupid things under that banner, like being in a helicopter I had no business being in in Iraq with rounds coming into the airframe," Williams said.

Again: Where were Williams's crew members, who surely knew that Williams had either "conflated" his Chinook with another Chinook — his explanation — or was using the passage of time to embellish his own exploits — another explanation. And what of other NBC News employees who worked on the story? Why did they remain silent on these matters? Are they still with NBC News?
That's a big deal. Potentially, you have people in NBC News silencing themselves while Bigfoot tells tall tales. Or worse: they make their discomfort known and no one does anything because Bigfoot is too big to be challenged. Even worse: Williams is at some point warned to cut the crap and he doesn't. That's a corporate crisis. (See this post from Hot Air about the 2003 report.)
But there's something else. When you watch these clips there's a troubling ambiguity to them now. One frame around them is: Williams pays tribute to the troops who fought the war and protected him in the desert. He does a lot to make that message explicit, and this part of the performance requires expressions of humility. I'm no solider, I'm no war correspondent, I had no business being there, I'm so grateful for these brave men and women.
When you watch it now, though, you may wonder: Why does this story keep coming up? How is it getting in front of audiences repeatedly over the years?
Let's take the Lettermen appearance in 2013. Did the show's producers say, "Hey, it's the tenth anniversary of Brian almost getting shot out of the sky in the helicopter, let's have him on…"? Seems unlikely. Letterman says in the clip he either forgot or never knew about the episode. More likely: Williams wanted to talk about it, so they programmed it in. That's not so modest.
Why is Madison Square Garden halting a hockey game and directing the attention of fans to Brian Williams and his military buddy being "reunited?" Because they knew about this story and thought it would be nice to revisit it 12 years later? Or because NBC promotion people alerted them and asked for the story to be re-told over the PA system?
You see, it's not just that Williams misremembered or embellished the story, or, as some believe, deliberately lied. He seems to have looked for opportunities to re-tell it, and involved NBC personnel in that quest, along with other institutions: The Late Show on CBS, Madison Square Garden.
To the people who were enlisted in them, these maneuvers didn't seem self-glorifying because of the presence of the soldiers in the "Brian Williams gets shot at" story— the real heroes, as he is careful to say. But when you learn that he wasn't shot at, that his pilot says he was in a different helicopter formation that took no fire, the minimizing tactics don't sound modest anymore. They sound like tricks. Consider this part of the transcript from Alec Baldwin's radio show:
And I've done some ridiculously stupid things under that banner, like being in a helicopter I had no business being in in Iraq with rounds coming into the airframe…
The words say: Williams had no business being there. He was doing something stupid. Behaving recklessly, perhaps. Those silly civilians with their clueless antics in a war zone! But Williams cannot mean that. In reality, he was accompanying U.S. Army General Wayne A. Downing as a big shot correspondent, hardly a prank or stunt. Williams and Baldwin are clowning. The words don't mean what they say. They are there to deliver the payload: with rounds coming into the airframe…
Whatever that is, it's not misremembering. It's more active than that. So is getting David Letterman to ask him about an episode from ten years ago. And getting Madison Square garden to honor one of the soldiers who protected him in the desert, which created footage that could be packaged into a story for NBC Nightly News, where Williams is managing editor.
You can see why the soldiers who were there got fed up with this and took to Facebook. It's more than misremembering or embellishing. It's looking for opportunities to tell the story and, in the telling of it, switching the focus to the military while an accidental payload — Brian Williams under fire in Iraq — is dropped. "You're a true journalistic war hero, and I'm just a dumb ass," Letterman says as they clown about it before one of the commercial breaks. Earlier in the show, Williams had protested when Letterman expressed admiration for his courage under fire, re-directing attention to the brave volunteers in the U.S. army. By the second time, he says nothing. He just accepts hero status. In good fun.
If people from NBC were enlisted in the mounting of these fictions, if they had doubts but swallowed them, if they protested but were not heard — all questions for the investigation — then Brian Williams may not be the only one in peril. Watch:
See my new post on this: The "conflation" that Brian Williams confessed to began in 2003.
Photo credit: David Shankbone.