Last night I came upon a new exhibit in my running critique. I will show it to you, and then try to interpret what it means. It happened on a program where he said, she said and "we'll have to leave it there" are a kind of house style: The Newshour on PBS. (Link.) Let's set the scene…
* A big story: the poisoning of Flint, Michigan's water supply— a major public health disaster.
* Latest news: the House Committee on Oversight and Government Reform held a hearing at which Michigan Governor Rick Snyder, a Republican, and EPA Administrator Gina McCarth, an Obama appointee, both testified.
* Outcome: They were ritualistically denounced and told to resign by members of Congress in the opposing party. (Big surprise, right?)
* Cast of characters in the clip I'm about to show you: Judy Woodruff of the Newshour is host and interviewer.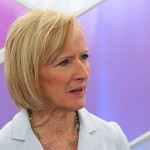 David Shepardson is a Reuters reporter in the Washington bureau who has been covering the Flint disaster. (Formerly of the Detroit News and a Michigan native.) Marc Edwards is a civil and environmental engineer and professor at Virginia Tech. ("He's widely credited with helping to expose the Flint water problems. He testified before the same House committee earlier this week.")
Now watch what happens when Woodruff asks the Reuters reporter: who bears responsibility for the water crisis in Flint? Which individual or agency is most at fault here? (The part I've isolated is 2:22.)
Here is what I saw. What did you see? The comment thread is open.
The Reuters journalist defaults on the question he was asked. He cannot name a single agency or person who is responsible. The first thing and the last thing he says is "depends on your point of view." These are weasel words. In between he manages to isolate the crucial moment — when the state of Michigan failed to add "corrosion control" to water drawn from the Flint River — but he cannot say which official or which part of government is responsible for that lapse. Although he's on the program for his knowledge of a story he's been reporting on for months, the question of where responsibility lies seems to flummox and decenter him. He implies that he can't answer because there actually is no answer, just the clashing points of view.
Republicans in Congress scream at Obama's EPA person: you failed! Democrats in Congress scream at a Republican governor: you failed! Our reporter on the scene shrugs, as if to say: take your pick, hapless citizens! His actual words: "Splitting up the blame depends on your point of view."
This is a sentiment that Judy Woodruff, who is running the show, can readily understand. He's talking her language when he says "depends on your point of view." That is just the sort of the down-the-middle futility that PBS Newshour traffics in. Does she press him to do better? Does she say, "Our viewers want to know: how can such thing a happen in the United States? You've been immersed in the story, can you at least tell us where to look if we're searching for accountability?" She does not. Instead, she sympathizes with David Shepardson. "It's impossible to separate it from the politics." But we'll try!
For the try she has to turn to the academic on the panel, who then gives a little master class in how to answer the question: who is at fault here? Here are the points Marc Edwards of Virginia Tech makes:
* Governor Snyder failed to listen to the people of Flint when they complained about the water.
* Synder trusted too much in the Michigan Department of Environmental Quality and the EPA.
* He has accepted some blame for these failures, calling the Flint water crisis his Katrina.
* EPA, by contrast, has been evading responsibility for its part in the scandal.
* EPA called the report by its own whistleblower "inconclusive" when it really wasn't.
* The agency hesitated and doubted itself when it came to enforcing federal law. WTF?
* EPA said it had been "strong-armed" by the state officials as if they had more authority than the Federal government.
Who is responsible? That was the question on the PBS table. If we listen to the journalist on the panel we learn: "it depends on which team you're on," and "they're all playing politics," and "it's impossible to separate truth from spin."
Professor Marc Edwards, more confident in his ability to speak truth to power, cuts through all that crap: There are different levels of failure and layers of responsibility here, he says. Some people are further along than others in admitting fault. Yes, it's complicated — as real life usually is — but that doesn't mean it's impossible to assign responsibility. Nor does responsibility lie in one person's lap or one agency's hands. Multiple parties are involved. But when people who have some responsibility obfuscate, that's outrageous. And it has to be called out.
Now I ask you: who's in the ivory tower here? The journalist or the academic?
I know what you're thinking, PBS Newshour people. Hey, we're the ones who booked Marc Edwards on our show and let him run with it. That's good craft in broadcast journalism! Fair point, Newshour people. All credit to you for having him on. Good move. Full stop.
What interests me here is the losing gambit and musty feel of formulaic, down-the-middle journalism. The misplaced confidence of the correspondent positioning himself between warring parties. The spectacle of a Reuters reporter, steeped in the particulars of the case, defaulting on the basic question of who is responsible. The forfeiture of Fourth Estate duties to other, adjacent professions. The union with gridlock and hopelessness represented in those weasel words: "depends on your point of view." The failure of nerve when Judy Woodruff lets a professional peer dodge her question— a thing they chortle about and sneer at when politicians do it. The contribution that "not our job" journalists make to unaccountable government, and to public cynicism. The bloodlessness and lack of affect in the journalist commenting on the Flint crisis, in contrast to the academic who is quietly seething.
In December I wrote something on how journalists and their bad habits are implicated in our hyper-polarized politics. ("Tone poem for the 'leave it there' press.") Please excuse me for quoting myself:
Every time you asked each other "what's the politics of this?" so you could escape the tedium and complexity of public problem-solving. Every time you smiled weakly to say, "depends on who you ask" before launching into a description of public actors who dwell in separate worlds of fact. Every time you described political polarization as symmetrical when it isn't. Every time you denied that being in the middle was a position so you didn't have to ask if it was a defensible one.
This has to stop.
After Matter: Notes, Reactions & Links
Big thanks to Max Larkin for technical assistance.
Ron Fournier of The Atlantic writes about the same moment and completely ignores the Reuters reporter, as if he wasn't there. Also:
@ron_fournier It's the academic who cuts through the crap. The Reuters journalist perpetuates and adds to the crap.

— Jay Rosen (@jayrosen_nyu) March 18, 2016

One of the reasons that journalists default to "depends on your point of view" when asked where responsibility lies is that they are wary of enlistment in partisan politics. And that is a valid concern. But it is false to equate holding people accountable with taking sides. That's just lazy, formulaic thinking. Here's a portion of the "About" page for ProPublica, an investigative newsroom in New York that does nothing but accountability journalism. Watch how in defining what they do they carefully distinguish it from joining up with the political circus:
In the best traditions of American journalism in the public service, we seek to stimulate positive change. We uncover unsavory practices in order to stimulate reform. We do this in an entirely non-partisan and non-ideological manner, adhering to the strictest standards of journalistic impartiality. We won't lobby. We won't ally with politicians or advocacy groups. We look hard at the critical functions of business and of government, the two biggest centers of power, in areas ranging from product safety to securities fraud, from flaws in our system of criminal justice to practices that undermine fair elections. But we also focus on such institutions as unions, universities, hospitals, foundations and on the media when they constitute the strong exploiting or oppressing the weak, or when they are abusing the public trust.
It's possible to hold power to account journalistically without "taking sides" in a political dispute. But you have to actually think about the best way to do that for your newsroom. My objection to "depends on your point of view" is that it is thought-less in precisely this way.
This "reporters notebook" item by Lindsey Smith of Michigan Public Radio answers the where does responsibility lie? question very well. And it clearly shows that the journalists involved in reporting on the Flint water crisis had to deliberate — think hard about what they uncovered — to get there, because the answer is complicated. Lindsey Smith writes that in making a 50-minute documentary on "how did this happen?" they came to a conclusion:
By not requiring Flint to treat the river water in a way that would've helped keep lead out of the drinking water, MDEQ became the most important focus for the "accountability" portion of this documentary.

Through months of research and lengthy, recorded interviews, my editors and I came to the conclusion that, had the water experts (specifically officials at MDEQ and the engineering firm Flint's emergency manager hired), done a better job, then who made the decision to go to the Flint River shouldn't have mattered. If they would've required corrosion control treatment, treatment any normal large city in America uses, treatment that the federal government has now made completely clear is absolutely required, the lead problems Flint has faced may not have ever happened.
That's not to say all the responsibility lies there. Rather: accountability begins there. And that does not depend on your point of view. It flows from actual reporting. (Hat tip, Dustin Dwyer.)