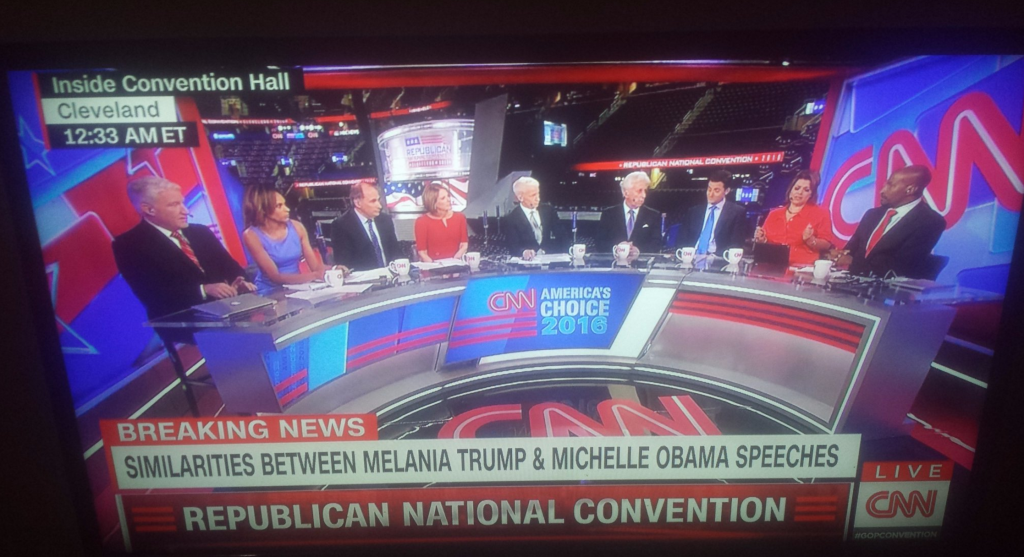 That's the line-up of interpreters presented by CNN on Tuesday of this week. They all fit under one of three categories: Journalists who cover politics for CNN (Gloria Borger, John King, Nia-Malika Henderson); political operatives who have worked for more traditional candidates (David Axelrod, Van Jones, Ana Navarro); and surrogates whose value to the conversation is that they reliably support Trump (Jeffery Lord, Andy Dean.)
But is that mix good enough? Can those three types — political journalists, operatives, surrogates — bring enough perspective to make sense of the Trump phenomenon?
My answer: No. Not even close.
The journalists are on screen mainly because these are the people CNN has at hand. They're already being paid, so they have to be used. The operatives are there because, according to the producers, politics is a game and these are people who know how the game is played. The surrogates are there because in order to elude criticism — a massive and undeclared factor in political coverage — CNN needs to present itself as "balanced." It's hard to find anyone who from experience knows a lot about politics and also supports Donald Trump, so CNN has to pay people to even the scales.
Notice: all of these reasons are producer-centric. They aren't responding to user demands, or the demands of the phenomenon itself. Jeffrey Lord is there because CNN needs him on air to feel fair and balanced. His job is to help CNN ward off criticism that it is one-sided or insufficiently Trumpish. This is the same reason Trump's former campaign manager, Corey Lewandowski, was hired by CNN. The decision has nothing to do with serving audiences, explaining politics, or telling voters the hard truth about their choices. It's about avoiding criticism.
In order to have a prayer of meeting the interpretive challenge posed by the candidacy of Donald Trump an executive producer of election coverage at a major network would need to call on different categories than the three we commonly see: journalists, operatives, and surrogates. Here's a partial list of the "slots" you would need to fill to even come close to a useful and rounded view…
Parody: In many ways, Trump's is a joke candidacy, a parody of a presidential campaign. The wall that Mexico will pay for is much closer to a goof on the political class than it is to any serious policy proposal. One of the slots on our revised roundtable should therefore go to someone who is attuned to this dimension and can evaluate how well the candidate did in extending his parody to the most sacred rituals in American politics, like the acceptance speech.
Stay shocked. "Many forces will be at work in the coming weeks to normalize Trump," wrote E.J. Dionne in May. "Please don't mainstream [him]." Dionne's plea deserves its own chair, a slot on the televised roundtable for someone whose only job it is to stay shocked, remain alert to the unprecedented, the hard-to-believe, the amazing, the chaotic. This person's job is exactly what Dionne said: never normalize Trump. Remain awestruck.
'Dominance politics' and the imperative of humiliation. "A series of symbols and actions that mark the dominating from the dominated." Here I am quoting Josh Marshall of Talking Points Memo, who has pursued this interpretation for months. (Brilliantly, I should add.) There should be someone on the pundit's roundtable who is paying close attention to the manner in which Trump tries to establish his dominance over all comers and humiliate anyone who would try to contest his superiority. Hearing that person opine on the latest speech, or press conference maneuver would be useful and illuminating.
Narcissism watch. Anyone aware of what "narcissism" really means would also be aware that Trump is a classic and illuminating case. Narcissists are distinguished not by self-love — that is a common misconception — but by a weak sense of identity that needs constant shoring up. It is hard for the narcissist to tell what is self and not self. A pundit alert to the paradoxes of this condition might be able deliver insights that would baffle a campaign operative.
Reality TV. No roundtable attempting to size up Trump is complete without someone who can view his events through the lens of Hollywood values, entertainment priorities, reality television imperatives, the demands of the script— worlds in which Trump has truly excelled. Van Jones cannot do that. Jeffrey Lord cannot do that.
"Identity politics for white people" is a phrase I first heard in this August 2015 essay by Ben Domenech. More recently it was the subject of this report by Nick Confessore: For Whites Sensing Decline, Donald Trump Unleashes Words of Resistance. "Everyone's sticking together in their groups," said one of his sources, "so white people have to, too." Instead of turning to another political consultant with a savvy take on the game of politics, Anderson Cooper should be asking his expert on white resentment to weigh in.
Political correctness. A portion of Trump's appeal has to do with his open defiance of what is often called "political correctness." If I were an executive producer of campaign coverage trying to capture the Trump phenomenon, I would dump Gloria Borger (what does she add, really?) and insert a careful student of this form of backlash politics, in which rules about what you "can't say" are broken and energy is thereby released.