Best I have seen at it is Melody Kramer, recently of NPR, Nieman Foundation and the Federal government. You should follow her. She's fab. But lots of people work the same way. Maybe you do. This post started as a note on Facebook. Dave Winer told me to turn it into a PressThink entry. I'm in a long-term conversation with Dave about blogging. So here I am.
I define blogging as doing my work in public. I thought I would explain how I approach that.
When I was asked to moderate a public discussion with two executives from Twitter I said yes because that's 'doing your work in public.'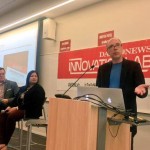 When I figured out my questions, I compressed them into tweets and posted them live as I put them to the guests. Doing your work in public.
I thought Twitter would soon face a problem that I have tried to alert Facebook about. (I posted my alerts on the Washington Post site, the Atlantic.com, and PressThink.) You have to learn to level with us about the kind of filter you're becoming. Don't hide behind mystifications like, "We don't control NewsFeed, you control NewsFeed."
For Twitter: level with us about the kind of editorial company you plan to be. I wanted to not only put this to Twitter at a live event, but write about it later, because I felt too little attention had been paid to a "switch" moment when Twitter becomes an editorial brand with a curation product. I had to pose the question in a unique-to-me way, a compression that would have to travel across different platforms and reception points.
Twitter hiring journalists to curate best-of tabs is the birth of a new editorial beast. How do we know this beast has a soul?

— Jay Rosen (@jayrosen_nyu) September 9, 2015

I asked the Twitter execs that: live. I rephrased and reframed the question so there could be no doubt what I was driving at. The clip of our exchange became the "text" I would later blog about. I took my time writing it because no one else wanted the clip, no one else had put the question in that way, and — as a writer in my conceit I believed — no one else was seeing this crossover moment for Twitter in the way that I was. So I revised it until I was satisfied.
Then I took a week to figure out how to distribute the thing. A couple of online publications turned me down, probably because the piece doesn't read like an article. It reads like a blog post. One thing that's different about blogging today compared to when I started in 2003: now you have to "go where the people are" online. You can't rely on them coming to you just because you published something new.
For discussing the moves Twitter was about to make with Project Lightning, one of the best online spaces I could imagine was the comments at Fred Wilson's blog, AVC.com. That's where (some of) the people are. So I asked him, over Twitter: Do you allow guest posts? He said not typically, why? "I have something that would be perfect for your commenter community," I said. He said post it and send me the link, maybe I will blog about it. Deal! (He did and it was excellent.)
Months ago I had been asked to cross-post on LinkedIn something I wrote for my own site. The people who run the publishing wing of LinkedIn said if I cross-posted they would guarantee me some promotional juice. I turned them down, but for this 'Twitter soul' post I contacted the same editors and asked if the deal was still on. After they read the post, they said: sure. Editor's Pick and morning newsletter placement the next day. And I could publish it on PressThink at the same time, an important principle for me. Deal. (The final product on LinkedIn.)
LinkedIn would, yes, get me more traffic than I could get on my own. (34,000 page views so far. Modest numbers but this is niche publishing. Accuracy counts more.) Traffic alone does me little good. But LinkedIn + the AVC.com post + pushing the piece out through my own network on Twitter and Facebook = pretty good. The next day they read it inside Twitter. The people working on Project Lightning read it. A lot of people who didn't know about Twitter becoming an editorial company now do. And the public cry, "level with us about what kind of editorial company you intend to be…" has been joined a little. (We still don't know.)
My point in telling you this? Blogging is not the post I wrote that appears at PressThink or on LinkedIn— or Atlantic.com if they pick me up. "Blogging" is the whole thing: accepting the invitation, tweeting the questions, creating a clip by asking what is good to blog about later, publishing the step-back explainer, crafting a distribution plan and negotiating for a make-shift guest shot at AVC.com, participating in the comment section at Fred Wilson's site.
All of that is blogging. 'Doing your work in public.'